Resting on the bank of The garonne river, on the shores of southwestern France lies an ode to a jewel of gallic civilization. The French port city of bordeaux. Home to the lively, patient and vibrant "bordelais. " The people of bordeaux. The life blood of bordeaux. Among one of The many charms and features of this beautiful port city is an over 120,000 hectare vineyard. The largest wine growing area in France and the source of the ever expensive ,prestigious and delectable " Bordeaux brand and series" of red and white wines respectively. The bordeaux wine region is divided into subregions which include Saint Emilion, Pomerol, Medoc and Graves. The 60 Bordeaux appellations and the wine styles they represent are usually categorized into six main families, four red based on the subregions and two white based on sweetness. Despite the varying appelations and wine styles, The vast majority of Bordeaux wine is red, with red wine production outnumbering white wine production six to one. The General purpose of this blog article is to introduce you to Bordeaux wine, the kinds of bordeaux wine as well as tasting notes, winemaking processes, food pairing suggestions, price references and purchasing tips and destinations. The diagram below is an illustrative guide to bordeaux wine categories and variants in order help you make great decisions when purchasing and experiencing the legendary flavours of Bordeaux wine:
Lets explore the six family categories of bordeaux wine appellations and wine styles in more detail as seen in the tasting notes above beginning in order from the left handside to the right handside.
Red Bordeaux and Red Bordeaux Supérieur. As stated earler in the first paragraph, there are six family categories used to represent and describe The various appellations and wine styles of bordeaux wine. Four of the six families are red wines based on subregions and white wine based on sweetness. Red bordeaux Supérieur and red bordeaux are The majority of the red wine family categories representing entire sub regional appellations with the popular red wine style accounting for approximately half of the Bordeaux vineyard. The red bordeaux primary flavours are Black Currant, Plum, Graphite, Cedar, Violet. The red bordeaux wines Red wines from Bordeaux are medium- to full-bodied with aromas of black currant, plums, and earthy notes of wet gravel or pencil lead. When you taste the wines, they burst with mineral and fruit notes that lead into prickly, savory, mouth drying tannins. The tannins are often high enough that wines will age for several decades. Depending on the quality, vintage, and what region within Bordeaux the wine is from, fruit flavors range from more tart fruit to sweeter ripe fruit therefore vintage variation is definitely something to watch for from this area.
White Bordeaux. The white bordeaux wine categories representing of course sub regional appellations of bordeaux wine with the white ones being part of the six family category but primary grouped based on sweetness. The white bordeaux wine derives its primary flavour from grapes such a sauvignon blanc, semillon and muscadelle. There are a few other less-known varieties used in White Bordeaux such as Colombard and Ugni Blanc which derives its flavour from similar grapes as the ones used in Cognac. White borde aux can be further categorized into two major wine styles which are Light & Fruity and Rich & Creamy. Light & Fruity styles make up the majority of White Bordeaux and are generally cheaper. Rich & Creamy White Bordeaux wines are made in a specific region (Pessac-Leognan) and tend to be expensive. Below is a diagram illustrative of the tasting guide to white bordeaux wines.
BORDEAUX WINE MAKING
Being a very intricate process, I think it will be more adequate and helpful for learning purposes to give a more general description of the Bordeaux wine making process so without further ado, let's begin.
Following harvest, the grapes are usually sorted and destemmed before crushing. Crushing was traditionally done by foot, but mechanical crushing is now almost universally used. Chaptalization is permitted and often common place. Chaptalization is refered to as the process of adding sugar to unfermented grapes must in order to increase the alcohol content after fermentation. The technique is named after its developer, the French chemist Jean-Antoine-Claude Chaptal. It is important to note that this process is not intended to make the wine sweeter but rather to provide more sugar for the Yeast to ferment into alcohol. So to continue the process, Fermentation then takes place, usually in temperature controlled stainless steel vats. Next the must is pressed and transferred to barriques (in most cases) for a period of ageing (commonly a year). The traditional Bordeaux barrique is a 225-litre oak barrel. At some point between pressing and bottling the wine is blended. This is an integral part of the Bordeaux wine making process, as scarcely any Bordeaux wines are varietals . A varietal wine is a wine primarily from a single named graped variety and which typically displays the name of that variety on the wine label. so then wine from different grape varieties is mixed together, depending on the vintage conditions, so as to produce a wine in the château's preferred style. In addition to mixing wine from different grape varieties, wine from different parts of the vineyard is often aged separately, and then blended into either the main or the second wine (or sold off wholesale) according to the judgment of the winemaker. The wine is then bottled and usually undergoes a further period of ageing before it is released for sale.
HOW TO SERVE BORDEAUX.
To fully experience and relish the flavour and culinary delight contained in a glass of Bordeaux wine, The question of serving and appropriate consumption must be consider carefully. For example it is interesting and important to note that Bordeaux wines taste better after they have opened up (been decanted). Decanting wine is essentially the process of pouring (decanting) the contents from one vessel (typically a bottle) into another vessel (typically a decanter). Usually the wine is then served from the decanter, but sometimes in a restaurant it is decanted back into the original bottle for service. With their beautiful labels and green glass, Bordeaux bottles have an elegant look on the table and when served as well. Below are illustrative diagrams of several servings of Red Bordeaux.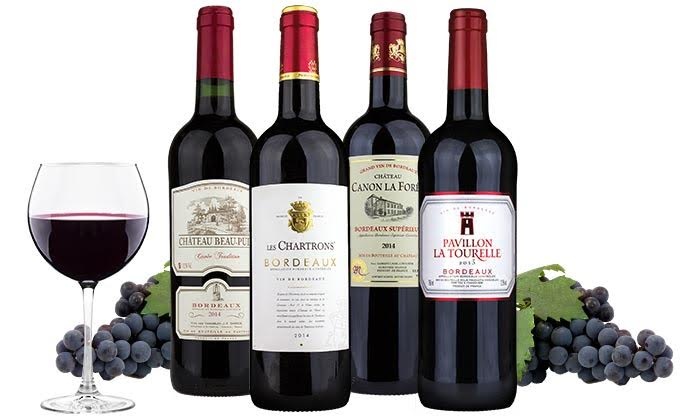 To properly serve Bordeaux wine, Here's some helpful tips and steps to follow.
Serve Red Bordeaux slightly below room temperature (around 65 °F / 18 °C).
Decant red Bordeaux for at least 30 minutes.
Store all your red wines below 65 °F / 18 °C.
Expect to spend around $25–$30 for a great bottle of Red Bordeaux.
Good wine glasses are important, and are usually tulip-shaped. The best are made of fine glass but they don't have to be really expensive.
Don't worry too much about matching the right type of wine to the right type of glass, based on what we've been brought up with. White wine, sherry and port is often served in glasses that are too small.
When serving, don't fill glasses too full. A good general rule, assuming you're using tulip shaped ones, is to pour the wine to just below the widest point of the glass. (Handy advice if you're delegating that bit to elder children.) That way anyone can swirl the wine to take in the hopefully delicious aromas, and to look like a wine pro.
Ensure your glasses are clean and tidy.
PAIRING FOOD WITH BORDEAUX WINE
Bordeaux wines are famous not simply for their taste when drunk singularly but also as a compliment to savoury main course meals and hors d'oeuvres to tasty and nutrient rich perfection giving Bordeaux wines their legendary culinary reputations. While both red and white Bordeaux wines are produced to and famous for great quality , it's typically the red blends that are most prized by consumers. Think meat. Yes, you can pair Bordeaux's with other kinds of food, but you'll be maximizing flavor the most if you cook a meat-based dish. Steak frites (steak and duck fat fries) might just be the perfect complement to red Bordeaux. The boldness of Bordeaux compliments the umami in the meat and the wine's scintillating tannins are smoothed out by the dish's fat content. In fact, Bordeaux wine will taste sweet and fruity against this rich meaty backdrop. The steak frites example shows us that when pairing foods with Bordeaux, you'll want to seek out foods with a.) plenty of umami and b.) enough fat to counteract tannin. Here are some more examples of meals that pair brilliantly in taste with Bordeaux wines.
Candied bacon maple cheddar burger. A burger doesn't get more epic than this. Sugary bacon backed by maple and sharp cheddar will accent any refined yet rich Bordeaux red blend especially those found on the left bank of the River Gironde.
Braised Lamb shoulder with fennel and orange. Lamb is naturally richer meat and Fennel helps to accentuate the earthiness in the wine while the orange helps mellow out the spice and mineral notes with a hint of sweetness.
Caramel Chicken. If you have any issue with red meat, You can also try Caramel Chicken as a food pairing. The addition of clove, ginger and soy sauce also further accentuate many of the savoury aspects of a Bordeaux red blend.
Asian style Pork Chops. Many Asian dishes and sauces bring out the flavour of red Bordeaux wines quite nicely and they also have great resulting flavours when paired with Apple Cider vinegar, Asian sweet chili sauce, and garlic.
Shepards Pie. Shepards pie makes for a great food pairing with Bordeaux red blends since you can add so many spices and mix it with various forms of ground or chopped beef.
Filet Mignon. This food pairs well whichever way you marinate it with Bordeaux wines. when pairing with red Bordeaux wine from the left bank of the Gironde River which tend to be Cabernet Sauvignon heavy with more earthy flavors, red fruit, and rugged tannins, You can try adding some sweetness and spice with Mango salsa and Chipotle sauce for an even more delicious experience of red Bordeaux wines.
BEST VALUE BORDEAUX WINES.
The Bordeaux wine brand is definitively a tasty, rich and elegant one However to the average person ,A classy rich quality Bordeaux wine brand is desirable to no end. What's even more desired is one which they can afford. To that end, here are some great affordable brands and luxury ones as well;
Blanc de Lynch-Bages 2015 Bordeaux Blanc. Costing on average $50 , it has fabulous aromas that sparkle in the glass: Honeycomb, lemon zest, and melon pith are edged with a hint of sweet white spice. These precede a silky palate with excellent textural and a notable sense of concentration. Meyer lemon, white grapefruit, and seashell-like minerality on the flower-flecked finish linger with precision and length.
Chateau Batailley Lions de Batailley 2014 Pauillac. Costing on average $54, it possesses an expression of tobacco, lavender, green olives, Chinese five-spice powder, and cherries, as well as a hint of the singed bottom of a sourdough loaf (I mean this as a compliment!). The palate boasts both energy and concentration, with black and red cherries, currants, cocoa powder, and hints of blueberry cobbler. It's almost salty on the finish, which makes me want to open this with a grilled, rare ribeye.
Chateau Boutisse 2016 Saint-Emilion Grand Cru. Priced usually at $40, this wine is quite plush and somehow comforting on the nose, this really shines on the palate, where red currants, Rainier cherries, whole cloves, cedar, caraway seeds, and leather dance together on an elegant, vibrant frame that's lithe, balanced, and long.
Chateau Fleur Haut Gaussens 2010 Bordeaux Superieur. Costing an average retail amount of $16, this wine tends to be deep, dense, and earthy on the nose, with lots of loamy aromas that are joined by cherry skin, cigar humidor, venison carpaccio, and black licorice. The palate is marked by a distinct balsamic note, which keeps the otherwise beautifully mature flavors of cassis, espresso beans, and leather fresh. Balanced acidity and melted tannins make this particularly delicious right now.
Chateau La Prade 2014 Francs Cotes de Bordeaux. This wine costs on average $23 and has a real sense of unexpected strong taste , with licorice, plum cake, currants, and an undercurrent of grilled sage all paving the way for a palate every bit as powerful yet still balanced, with flavors of cassis, kirsch, chocolate, and roasted coffee beans, as well as a tobacco-tinged finish.
In Conclusion the Bordeaux wine brand is indeed as enchanting dynamic , varying in prices and quality. It is as delightful as its geographical home. As such both the diversity of wine styles ,appellations and cultural life of Bordeaux present fascinating prospects for tourism and amazing adventures when in France or to those interested in visiting France. Leave a comment if this article has been helpful. Your feedback is much appreciated.