Cardi B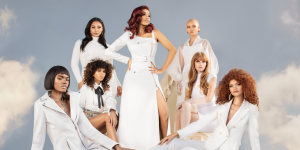 It's hard to explain exactly how that relates to the rapper's new collection with the urban fast-fashion brand, but here goes. Cardi is working hard for us. "The audience, the general public, they don't hush, they don't sleep, they always want to see something," she says. So Cardi doesn't sleep either. She's a new mom, she's released or appeared on two song-of-next-summer worthy singles in the last month, and, as of midnight on November 15, she's releasing a collection of clothing for "bitches with ass like me," says Cardi.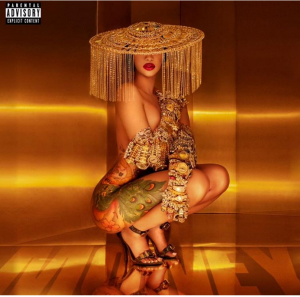 So while we talk, Cardi is multitasking. She's watching her nieces, nephews, and four-month-old baby Kulture Kiari Cephus. It's 3 p.m. and she explains in between bites that she hasn't eaten since 7. "I'm sorry," she says, "I'm so fucking hungry." Even over the phone, I can see the woman who's charmed the pants off late-night hosts, has ascended to superstardom in the span of a couple years, and who Frank Ocean recently called a "symbol of women all around." She makes a point to apologize and explains the disturbances as her "germy" nieces and nephews try to get close to her baby before barreling back into the answer she was giving to a question.
Cardi sees her debut Fashion Nova collection as an opportunity to represent women of color in fashion. "I feel like a lot a high-end clothing companies, they don't cater to women like me," she says. It's also expected to sell out in minutes. But that's not the only reason for Cardi to celebrate. She's also celebrating that the Democrats took back the house in last week's midterm elections. "Now we taking over, baby, you already know what's good!"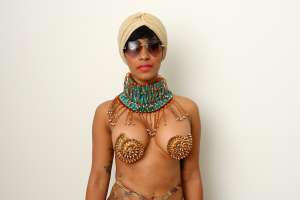 So much is good when you talk to Cardi B. Below, you'll find out why budgeting for taxes is the key to staying rich, come to terms with lackadaisical Obama-era Democratic voters, andfind the perfect jean jacket, leather jacket, snakeskin jacket, and suiting that's Belcalis Almanzar-approved.
How did your collaboration with Fashion Nova come about?
I really wanted to do a clothing line for myself. I wanted to do clothes and create everything, you know? But I've never been in this business, it's really new for me. So I was like,"Why don't I just partner up with Fashion Nova?" They have been doing it and they gave me a offer so I wanted to see how things go. Me and Fashion Nova we've been friends for a very long time. It's almost like a family thing and it's like, hey why not?
What do you love about Fashion Nova?
I like their quick fashion, you know what I'm saying? There are so many things that I like. When I was growing up they used to sell similar clothes to Fashion Nova but right now in New York City, there's not a lot of quick fashion stores and the real estate is too high for stores to keep up. Fashion Nova is also a small business and they deliver real fast. That and that it's fitting for my body. I'm a very thick and I'm a short thick girl, and not a lot of high-end clothes fit right. Fashion Nova fits my body to the T. It's like they know my body.