Rick Owens"Flanged collars, peeling shoulders, and exuberant cuffs turned jackets into impenetrable carapaces. Like the metal scaffolding of the headpieces and arm cuffs that qualified as jewelry here, those jackets looked designed to ward off predators. [Rick] Owens's laser-cut and paneled cloaks conjured goddesses and super-heroines. Sometimes the models even carried torches. Other elements were weaponized in different ways. Minidresses aswirl with silk fringe, for example, looked unreconstructedly sexy. All of this was as sui generous as it gets, including his new Birkenstock sandals and boots." —Nicole Phelps
Dries Van Noten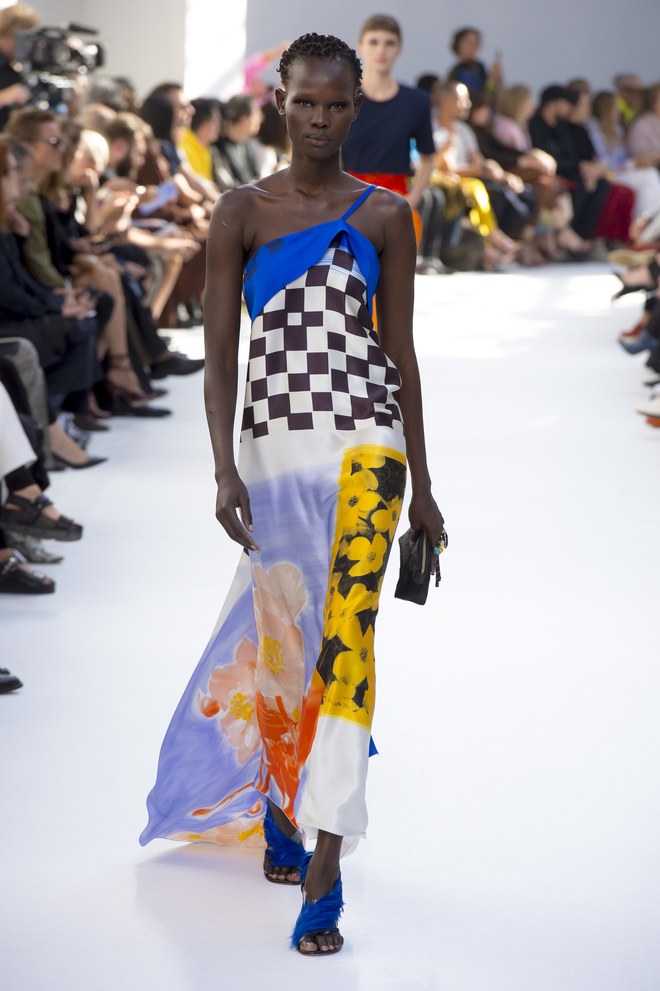 "Ears backstage have become so inured to designers nattering on about the importance of capturing millennials and Gen Z that to hear someone considering how a modern woman might enjoy her clothes sounds almost radically avant-garde. Dries Van Noten discussed just that today, in relation to a collection that was extra specially on point. . . . No wonder Van Noten's well-wishers were wreathed in smiles backstage. It was his best collection in quite a while. And grateful smiles of self-recognition among grown-ups runway-side are a rare thing these days." —S.M.
Loewe"[Jonathan] Anderson had his models walk among works by three disparate contemporary artists in the landmark UNESCO heritage building. It's his seasonal curatorial practice, part of the subliminal flattery in being invited here. Ergo: You are now entering a zone in which you will be treated as if you have an intelligent art-attuned mind, and then I am going to tempt you to death with a beautifully made assembly of clothes and accessories handmade for the person you are." —S.M.
Balenciaga"Possibly what has been missed in [Demna] Gvasalia's career so far—what with the way he's been responsible for the rise of hoodies and dad trainers, and the new wave of ironic logomania—is that he's also an innovator in cut and pragmatic problem-solving. With this collection, the emphasis was far more on creating new silhouettes—squared shoulders, a different iteration of the 'C-line,' creating a pulled-back cocoon cut with collars shooting forward to cover the face. Yes, there was a smattering of logos to keep the Balenciaga market for that ticking over. But far more interesting was Gvasalia's consideration of how to cut and drape a red dress out of a single four-meter piece of silk, and the way he came up with two-piece evening suits in the shape of a shirt and a sarong skirt."
Junya Watanabe"Junya Watanabe is always at his brilliant, refreshing best when he's in a romantic mood—or when he trains his brain on investigating some sort of generic piece of clothing. A happy morning for fashion, then, when his two strengths came together in a collection about denim intersecting with the processes of dressmaking. Or, as his team translated afterward, 'A romantic feeling in rock music.' Ah, yes: Another thing about Watanabe is that he's a music buff.